Sunshine at the Fitz welcomes another great turnout!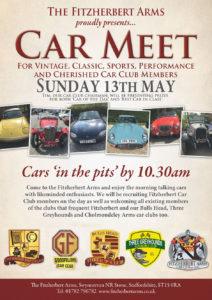 Thank you to all the car club members and enthusiasts who joined us for the first Car meet of the Season at the Fitzherbert Arms on Sunday May 13th.
We saw club members of the Good-fellows Car Club travel down from the Bulls Head in Mobberley and from Tarporley we welcomed Cholmondeley Arms Car club members as well as the core of the Fitzherbert Arms Club.
The cars that featured on the day can now be seen on the 'Past Events' page on the Car Club pages on the Fitzherbert Arms website www.fitzherbertarms.co.uk
Tim the owner of the Fitzherbert Arms and James the landlord of the 'Fitz' were on hand to recruit 12 new members and to take photos of the cars on show as well as presenting car club mugs and car stickers.
Tim and James along with other members of the team chose his 'Favourite Car of the Day', 'favourite Car in Class' and 'cherished car of the day.
Congratulations to Julie and Tony with their 1953 MGTD for the 'Favourite Car In Class' and Bob with his 1964 Mercedes SL230 'Pagoda' for the 'Favourite Car of the Day' and finally Graham and his 1966 Wolseley for 'Cherished Car of the Day'.
We will be in touch soon with the next Car Meet which will be held at our Three Greyhounds Inn pub in Allostock near Knutsford and Holmes Chapel.