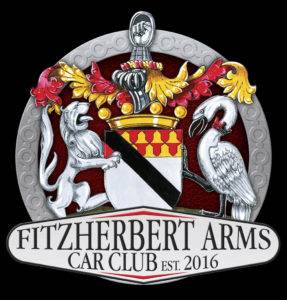 To be a member of this 'elite' and hopefully fun club all you have to do is….
A) Own a beautiful car that you are proud of….
B) Park your proud car at the Fitzherbert Arms
C) Take a photo of your proud Car and email the photo to our Manager Carl at our email address info@fitzherbertarms.co.uk with your name and your cars name/make etc. It's as simple as that!!
Your Car picture will then be proudly presented on the website and when Carl has 50 members he will be drawing a lucky winner for an excellent 'Drive experience event'.
We will be organising special events throughout the year for Club Members. As well as the annual Fitzherbert Treasure Hunt.
There is no joining fee for the Club. We will from time to time ask for small donations for local charities at our club events.
Each member on joining will receive a Car club Mug and a free pint of Fitzherbert Best Bitter (or glass of wine) served to them proudly in the pub!! Mugs will be presented when you visit to claim your pint or glass of wine or at the special events we arrange.
So come and enjoy the Fitzherbert Arms Car club now!!!
Our other Clubs
There will naturally be some positive rivalry between the Fitz Car Club and our three other car clubs which have operated for three years at our Cholmondeley Arms and six years at our other 'sister' pub the Bulls Head in Mobberley their clubs are….Firstly the 3p Club (Porsche, Pub and Pint Club) and the 'Goodfellows' Car Club for all other vehicles that aren't Porsches!!