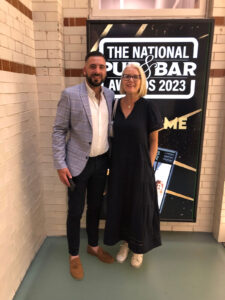 Once again, the Fitzherbert Arms was part of the 94 pubs and bars across England, Wales, Scotland and Northern Ireland who scooped a prestigious County Winner title as part of the 2023 National Pub & Bar Magazine Awards. This is the fourth time the Fitzherbert team have been recognised by the publication as Staffordshire's Best Pub since the Fitz re-opened in 2016 after a period of closure.
The National Pub & Bar Awards aims to put exemplary businesses across the UK in the national spotlight, showcasing the hospitality industry's diversity, creativity and vital importance to the UK economy.
The announcement of this year's 94 County Winners shows the level of quality being delivered to pub and bar visitors every day of the week.
The Fitzherbert Arms was selected on overall best practice across a number of operational categories and was officially crowned at a 'red carpet' celebration at 30 Euston Square, London, on Wednesday 23 June 2023.
Head Chef Connor joined owners Tim and Mary on the trip to London to celebrate the award and enjoyed time in the City looking at food operations of interest.
Mary said "we are very proud indeed of the Fitzherbert Team. They have shown an amazing degree of consistency over the years and deserve this award. It was great to be accompanied by Connor our head chef who plays a very big part, with his kitchen team, in the success of the Fitz, a big well done and thank you!"