The Fitzherbert Arms' 7th Treasure Hunt is a hit!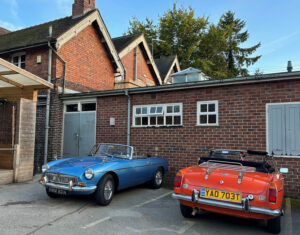 We certainly got lucky with the weather as 12 teams rocked up to compete in the 7th annual Fitzherbert Car Treasure Hunt. The pairs were sent off into the lovely Staffordshire countryside picking up clues and answering challenging quiz questions along the route!
All arrived back safely after a couple of hours and enjoyed a much-needed drink and complimentary nibbles while Tim set about marking the papers. It took a while as everything was very close indeed, so there was a need for a series of recounts!
There was a draw for third place between the lone driver team led by Alan of the Flintstones in his Aston Martin, the 'Youngsters' in their MGB (pictured) also came in third and team 'Squtternut Bosch' too in their Mini Clubman. When there is a draw then the highest Treasure Hunt score alone decides who is victorious and it was the 'Squatternut Bosch' Team that managed to win third overall! So winning a £20 gift card.
In second place were treasure hunt heroes the 'Balmy Army' their X Trail who collected a £40 gift card.
The winners of the Cup and a 'Porsche for the Day' and so becoming the Fitzherbert Arms Treasure Hunt Champions of 2022 were Matt and Helena, the 'Two in a Box' Team in their Porsche Boxter!
Well done to all the teams who took part, you all did very well indeed. We hope to see you all again soon. We raised £130.00 for our two charities….Hospitality Action and Action Against Hunger. Thank you for competing and making it another great day at the Fitzherbert Arms.