First Port of Call….for the team at the Fitz'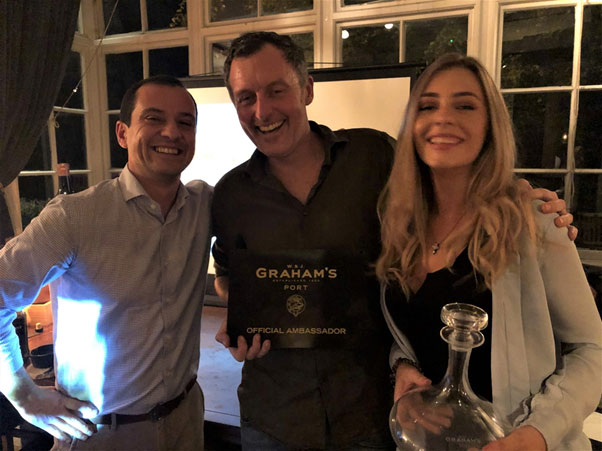 The Fitzherbert Arms in Swynnerton, Staffordshire, situated on Lord Stafford's estate, has been appointed a 'Graham's Port Ambassador' at a Port Tasting evening held at the pub on the 24th October 2019. The Fitzherbert Arms is the first pub in the UK to be presented with the award and joins a very special group of just eight establishments worldwide. The award recognises not only the exceptional Port list, with 30 different Ports available, (twelve of which are served by the glass) but also the dedication and professionalism of the Fitzherbert team who have delivered a consistent experience over the past 3 years with Graham's and Port overall.
João Vasconcelos, Head of Sales for the Symington Family Estates, flew in from Porto to present the plaque to James Griffiths, Landlord of The Fitzherbert Arms and his deputy manager Charlotte Dawe in recognition of the work they have done. It has been an exciting time for James and Charlotte, as both spent three days in Porto and the Douro Valley on a company trip in September to improve their knowledge and experience even further.
Commenting on the evening, Tim Bird and Mary Mclaughlin, the owners of the Fitzherbert Arms, stated "It has been a wonderful evening celebrating the Ports from this historical region of Portugal, we are over the moon and very honoured to own the first pub in the UK to be appointed as a Graham's Port Ambassador. We look forward to continuing to increase the awareness and enjoyment of these amazing Ports in the Fitzherbert Arms and across our other pubs within our Cheshire Cat Pubs and Bars Group. It was lovely to share this special night with our loyal customers and Lord Stafford. They too are very proud of the pubs achievement."