We've won best in the County!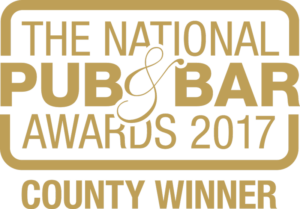 The 2017 Pub and Bar Magazine Awards are back and the judges have chosen the best Pubs  and Bars in their respective counties. We are delighted to announce the Fitzherbert Arms has been chosen as the best pub in the county of Staffordshire. We are naturally delighted! Our sister Pub the Cholmondeley Arms has also won in Cheshire! So we have a double to cheer about!
The awards are being presented at BAFTA in Piccadilly on 23rd May. At this event the best in the region will be decided…The Fitzherbert Arms is in the West Midlands final and the Cholmondeley Arms is in the Northwest final. Then one of the regional winners will win best pub in the U.K.!! Last year our sister Pub the Church Inn in Mobberley was voted best pub in the U.K. at the awards so it's truly amazing to be amongst the best again! We are very excited for the entire team and our customers who have all played a part in us achieving such a great honour! We will keep you posted once the 23rd is over!