PUB GUIDE VOTES FITZHERBERT ARMS AS BEST NEWCOMER
The Fitzherbert Arms in Swynnerton has been voted as the 'Best Newcomer' in the prestigious Sawday's Pubs & Inns Guide of England & Wales.  The award comes after the Fitzherbert saw off competition from more than 800 pubs also featured in the guide.
The Fitzherbert Arms, located on Lord Stafford's estate, re-opened in February this year after a period of significant restoration work that saw the famous 19th Century pub restored to its former glory as a lovely, quintessential village pub that oozes character and charm.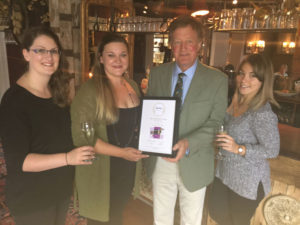 Tim Bird, owner of Cheshire Cat Pubs & Bars who operate the Fitzherbert Arms, comments; "With nearly 800 pubs featured in this year's guide, winning an award so soon after opening is a fantastic achievement for the team.  What's more important however is to see the positive response we've had from customers and to see such a famous old pub thriving again."
The judges were impressed with the pub's enticing décor, featuring creative interiors and pieces such as a blacksmith forge and unique anvil tables.  The guide also praises the mix of customers from dog-walkers and ale-drinkers to those who have travelled from further afield to enjoy the quality food and impressive range of ports.
Other highlights featured include the beautiful open-plan feel, warmed by three cosy fires, a 'friendly vivacious team' as well as the platefuls of flavoursome food ranging from seafood platters, steak and stout pies, crumbles, brownies and port-poached pears all served on old fashioned tables.
The Fitzherbert Arms was also praised for its range of drinks that include 30 different ports (more than any other pub in the country), 16 wines by the glass and a real cider as well as four cask ales from within a 35 mile radius of the pub. There is a cosy snug, a private dining room and a charming outside summer terrace.
Tim Bird and Mary McLaughlin operate seven country pubs, five in Cheshire, one in Dorset and now one in Staffordshire and have won numerous awards for restoring pubs of great heritage and character.  Their estate includes the award winning and lovingly restored Cholmondeley Arms on Lord Cholmondeley's estate, The Church Inn and Bull's Head in Mobberley and The Red Lion in Weymouth.  Their latest venture, the Roebuck Inn in Mobberley, has also now opened to offer a boutique Bistro with six eclectic rooms.