Our Owner Tim is Pub Personality of the Year 2018!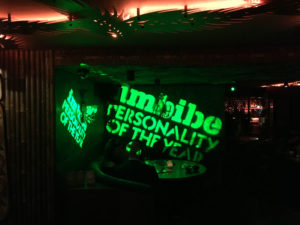 Imbibe Magazine is the UK's leading drinks magazine and tonight at their annual awards in London our owner Tim was chosen as 'Pub Personality of the Year 2018'.
Tim was up against some of the pub industry's top talent on the night, but the judges not only looked at Tim's vast experience in the industry but particularly the success of Cheshire Cat Pubs and Bars, Tim's company that he operates with his wife and business partner Mary McLaughlin. They have taken pubs that were either closed or close to closure and through their restoration have created one of the best small pub companies in the UK!
On winning this prestigious award, Tim thanked the team at Cheshire Cat….."I have had many proud moments in my career but nothing has made me prouder than the achievement of our pubs. Starting our own business was the best thing we have ever done and tonight I share this award with Mary and the Cheshire Cat team! I would like to thank Imbibe Magazine for giving me one of the proudest moments in my career! I look forward to celebrating with the team!"